Young enterprise project
Promoting entrepreneurship within in the BTS programme through the "Young Enterprise Project" (YEP)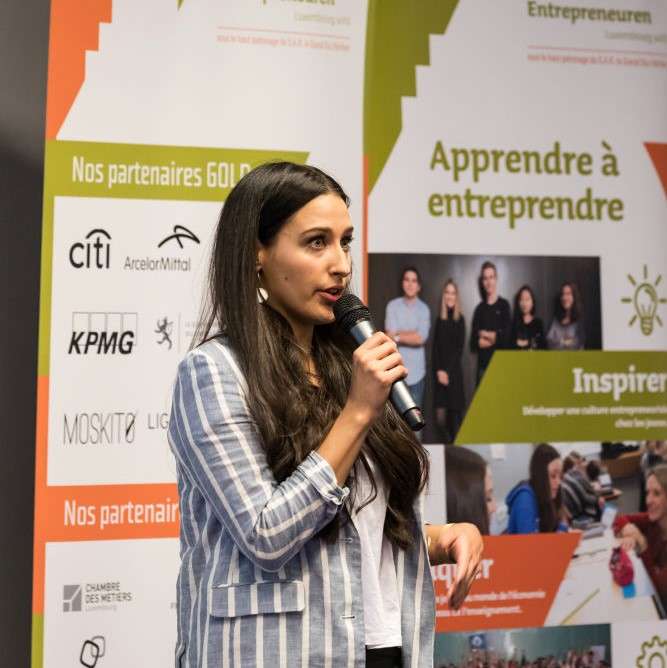 Since 2006, students in the BTS Business and Marketing Manager stream follow a course focussing on business creation and writing a business plan. In 2013, the ECG teamed up with "Jonk Entrepreneuren Luxembourg" ASBL1, to join the "YOUNG ENTERPRISE PROJECT" (YEP), a competition which follows a "learning by doing" approach. Since 2017, the programme has been extended to the BTS Accounting and Tax Manager stream.
Enhancing the students' entrepreneurial skills
The YEP project requires students to work together as a team to write a business plan on the basis of a product or service idea. The project aims to foster an array of entrepreneurial skills among students, including creativity, perseverance, self-confidence, initiative-taking, organisational abilities and a team spirit. All these skills will stand students in good stead in their future professional and personal lives.
The YEP learning programme is entirely dedicated to business creation. Thus, teams made up of young people face the challenge of spotting an opportunity, setting up a business plan around it and developing an innovative project. Participants also assess their project's feasibility under the guidance of experts from the business community. At the end of the year, pupils are encouraged to pitch their project to a jury made up of potential investors. Winners are given the opportunity to participate in an international competition.
A highly practice-based programme
Grounding in a learning by doing approach, the YEP project confronts students with real-life business. Each group can comprise a maximum of five participants and is teamed up with an experienced professional in the field of marketing, finance, human resources or business creation by JEL.
Throughout the implementation stage, students regularly meet up with their coach in order to discuss their progress. The coach's mission consists in guiding students, questioning their choices and being a source of motivation.
The project not only requires students to deliver a written version of their business plan, but they also have to test their entire project or parts of it in practice, by pitching to a jury made up of potential investors. Moreover, ECG students compete with other BTS-level students from other schools.
From theory to practice: the different stages of the project
The starting point of the project consists in brainstorming ideas. Students choose an idea, which they discuss with their coach, and subsequently submit to a jury for approval. Once their project is officially approved, they put their ideas into practice by devising a business model, including a financial forecast and a plan that encompasses a variety of aspects that are crucial to the project's implementation. At this stage, students are in regular contact with their coach and also receive advice from their teachers. After a second endorsement procedure, the jury selects the teams that are allowed to present their project at the national finals. The final winning team is given the opportunity to participate in the European finals of the same competition.
Promising results following initial assessment
Since 2006, entrepreneurship education at BTS level has evolved considerably. Collaborating with JEL, a motivated and attentive partner, has been a rewarding experience in every sense. Students particularly valued the very fruitful interaction with professionals specialising in the field of entrepreneurship. According to an employability survey implemented in 2014 in collaboration with IUIL2, more than 40% of former ECG graduates intend to create their own business. Whilst some have already done so in practice, and others most certainly will follow.
Team SOVI, the winners of the 2017-2018 competition, ranked among the 6 best projects during the European finals held in Riga in June 2018.
In the meantime, they have created their own start-up and have also been selected by Luxinnovation to participate in the "Fit 4 Start"3 programme. Those are promising results that encourage us to continue in that vein.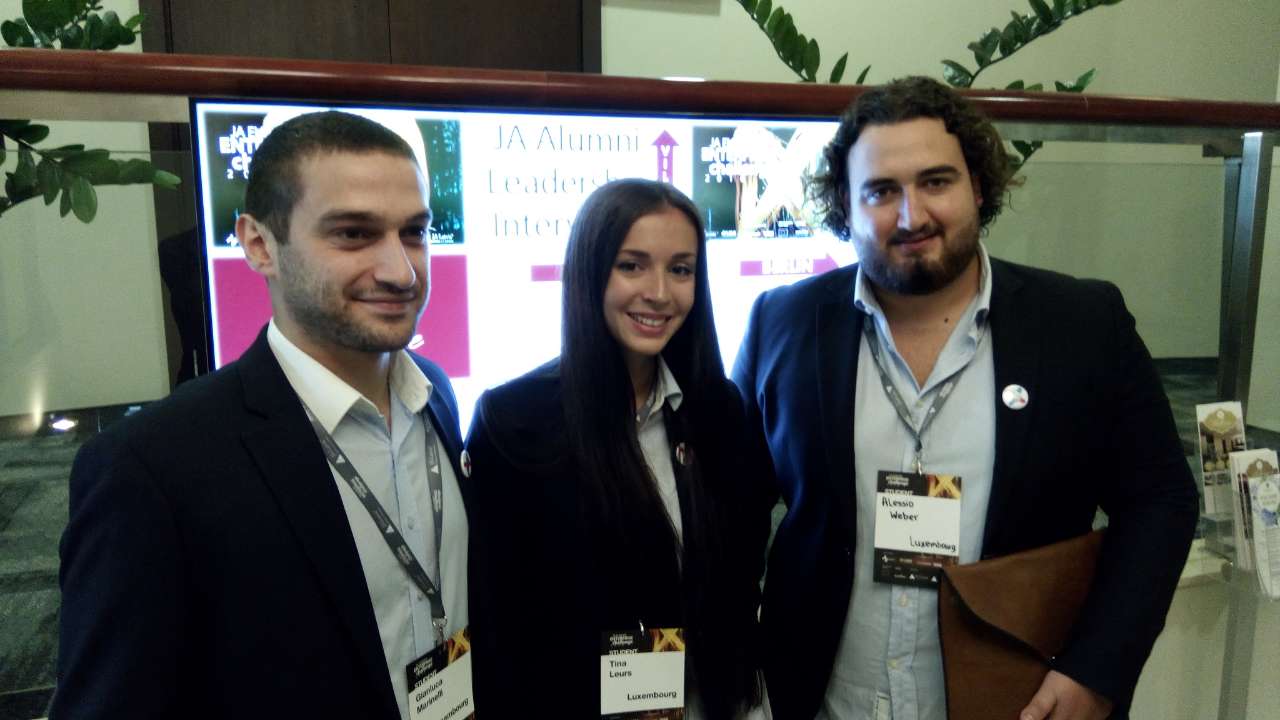 Team SOVI at the European finals in Riga
[1] https://jonk-entrepreneuren.lu/
[2] Institut Universitaire International à Luxembourg (devenu entre-temps University of Luxembourg Competence Center)
[3] https://www.luxinnovation.lu/innovate-in-luxembourg/performance-programmes/fit-4-start/?location=National